"To grow your eCommerce market share, your must first understand why you're losing it."
Let's talk about strategy vs tactics for a bit
With e-commerce being a constant battlefield, we need to discuss about your strategies and tactics before we go into battle. We make this analogy to indicate the importance of setting solid KPIs (strategies) and understanding the metrics (tactics) that drive measurable results to those strategies.
KPIs and metrics are quantifiable or measurable values you can use to track progress and evaluate performance.
Competition, demand, and target audience
Do you have a clear overview of your market? If no, then you're already losing the e-commerce game. Don't be mistaken, this affects your offline as well as your online sales, brand loyalty, and overall market share across categories. Consider looking into market share in terms of units and sales value down to SKU level. Using total market analytics you can identify the concentration of competition in your category.
Competition
Track total market dynamics
Understand product costs vs your competition
Demand
Popular categories
Loyalty vs promo influence
Impact of marketing activations
Target Audience
Look at specific time and dates with high activation volumes and identify audience shopping trends
Availability matters
Because out-of-stock hurts your brand, your customer loyalty, relations with your retailer, and of course, your market share. If consumers can't add your product to their cart, you're losing to the next available competitor. Brands that consistently keep their stock levels up across their top 3 retailer see significant uplift up to 37% in category share especially when demand is high.
Proactively manage out-of-stock
Talking about demand – Is there a part of the equation left unanswered? What you should be watching for deeper market insights and better marketing spend assessment.
Price management
Compare average prices across all your retailers
Evolution of sales value vs nsales units
Average prices from categories down to SKU level
Basket penetration
Of your brand and competitors at the same category
Of the total sector vs specific category
Of competitors products bundled with yours
The perfect product page exists
And it consists of good quality content, consistently, across all your retailers.
Give detailed product information, utilise enhanced content, and if possible, promote your brands authority with ratings and reviews.
We recommend that you streamline content distribution across retailers which will also benefit significantly the management flow internally within your organisation.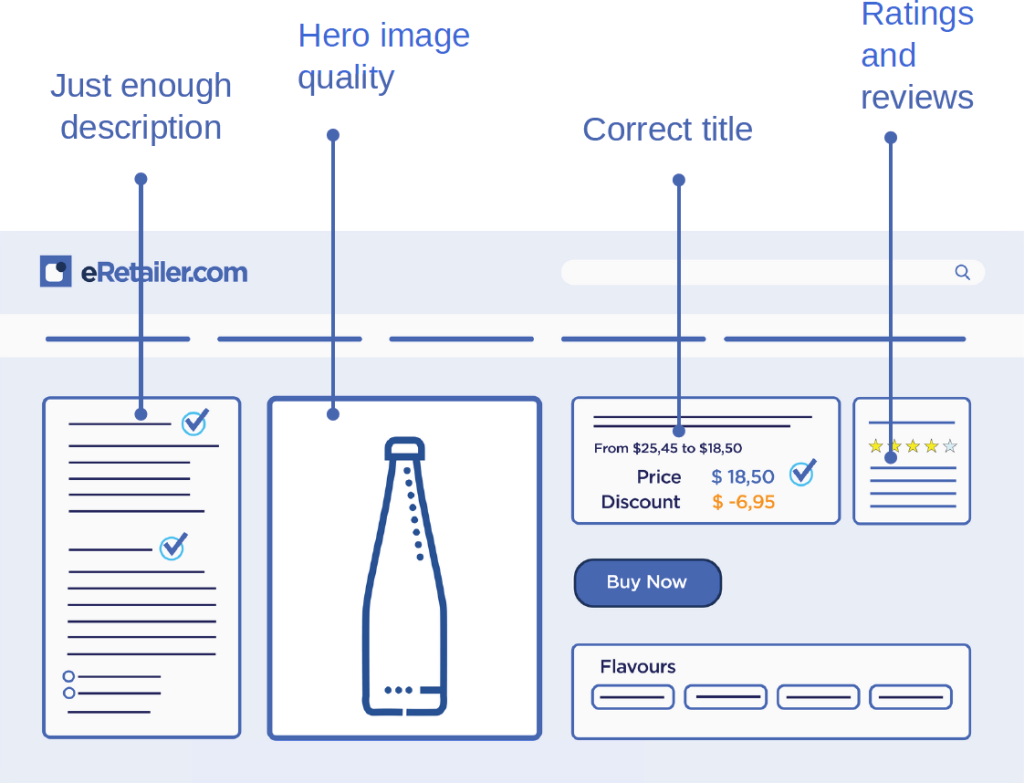 Brand Share of Voice (BSoV)
Taking all the above into consideration, marketing activations are critical for your brand in terms of awareness and market share. As we already discussed, if your products are not available, your investments will go into the next available product and if your content is not consistent, shoppers will find products that influence more trust.Track the impact of every promotional activity like newsletters, on-site banners, and social media. With consistent availability, messaging, and branding across your products, you create awareness that should ultimately affect your market share.
Keep a close eye on your BSoV and ensure that your engagement is high. Modern consumers seek validation online even when they're shopping offline making your digital presence more important than ever.