The Pharmaceutical Chain of Framar, the Bulgarian brand that is synonymous with the innovation in pharmacies, announces a strategic collaboration with the pioneering technological solution of Convert Group aiming to transform the way Pharmacies & Suppliers collaborate with data today. Framar announces openly the share of its online transactional data, paving the way to a revolutionary collaboration model with its brand suppliers. The sharing of its offline data is also planned in the eminent future, providing eventually a full omnichannel experience to brand partners.
The No1 brand in Bulgaria, Framar, which belongs to the Pharmaceutical Chain of Framar, and holds pharmacies in the biggest cities of Bulgaria, as well as the high rated online pharmacy apteka.framar.bg, have decided to unite their powers with Convert Group, the leading Software-as-a-Service provider in the Data & Analytics Market Intelligence space, aiming to revolutionize supplier collaboration.
Convert Group has been counting numerous success stories in more than 16 countries and Framar is the latest addition, forming one of the most significant partnerships in Bulgaria. In a country that data monetization and data sharing have a long way to go, the two companies, Framar and Convert Group, have fully immersed in this common path, realizing the importance of doing business based on insights and allowing brand partners to be equally knowledgeable, which is the key to mutual growth and success.
Framar is openly inviting brand partners to seek out to them and form a cooperation scheme, through a SaaS platform that delivers a highly customized data collaboration program. This data analytics program aggregates and analyzes Transactional data of shoppers, Basket data, Sales data, Marketing data, to manage and optimize joint business planning, between Retailers, as Framar, and brands.
This pioneering, powerful platform has multiple benefits, to name a few:
• Let suppliers know where they stand in the market by providing meaningful insights
• Demystifies shoppers' behavior and path to purchase
• Allows the tracking and measurement of marketing activations' performance in real-time
• Gives the power of knowledge & better decision making
• Hands the keys to short- & long-term sales growth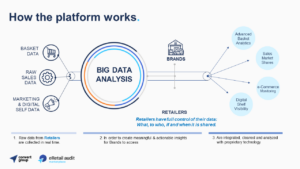 "In Convert Group we found the partner we were always looking for. A partner that gave us the ticket to a fascinating journey of data sharing and to a better collaboration with our brand partners. By providing their innovative technology and their experienced servicing team we were able to build together a sustainable data sharing program, with no effort and at scale for all Framar pharmacies." said Ivaylo Tonchev, the Marketing Director of Framar.
"Convert Group is proud to partner with Framar to revolutionize the way Retailers & Suppliers collaborate with data and looks forward to working together and to tackling business challenges," said Panayotis Gezerlis, the Founder & President of Convert Group. The vision, pharmaceutical expertise and innovative thinking of Framar, makes them an ideal partner for Convert Group."
About Framar
With the first pharmacy open in 1999 in Stara Zagora, Framar was the only private 24-hour facility in the city. Today, 47 sites operate under the Framar brand in 11 cities of the country (Stara Zagora, Sliven, Svilengrad, Burgas, Plovdiv, Gabrovo, Galabovo, Varna, Ruse, Sofia, Veliko Tarnovo) with an approximate customer flow of over 170,000 visitors per month. Composed by a competent team of pharmacists, Framar runs periodic awareness campaigns regarding socially significant diseases such as diabetes, high blood pressure, varicose veins.
Plus, the www.framar.bg is one of the largest and most popular health forums in Bulgaria, with thousands of opinions and comments from users that offers a wide range of information, backed by a team of professionals with an established reputation writing on health news, interviews, interesting and useful for health. Online pharmacy apteka.framar.bg is a source of medicines, nutritional supplements, cosmetics, and other health accessories. We enforce a standard of fast and quality service on every order, with responsibility to every customer, to their complete satisfaction.
About Convert Group
Convert Group is leading the Data & Analytics Market Intelligence space in the global eCommerce and Omnichannel segments. With operations in 16 countries across Europe, Latin America & Africa, Convert Group is leveraging its AI-powered eRetail Suite platform along with data & analytics consulting services to unlock the digital potential of Retailers and Manufacturers. The company boasts a rich portfolio of hundreds of dominant online Retailers and 15 out of 20 biggest global FMCG & Consumer Healthcare firms. Its clientele includes L'Oreal, P&G, Unilever, Johnson & Johnson, Adidas, The Coca-Cola Company, Mattel, Nestle, RB, Haleon, Henkel, Walt Disney, Bayer, Beiersdorf, Friesland Campina, Heineken, Barilla, Colgate Palmolive, Philip Morris International, Perrigo, JDE, Pierre Fabre, Abbott and Retailers such as Ahold Delhaize, Carrefour and Rakuten.
The company has continuously been named as one of the 25 best working environments in Greece for the past 5 years and in 2021 as the 4th best place to work in Europe for small and medium-sized companies. Additionally, Convert Group has been named as one of Europe's 1000 fastest-growing companies for 2 consecutive years by the Financial Times and Statista.