Prescription medicine sold online in 47 out of the 96 countries that have ePharmacies
Increase in visits represents a staggering 29% year-over-year growth rate
New research reveals significant opportunity for the Consumer Healthcare Industry to shift consumers' mindsets around OTC, Rx & FMCG online sales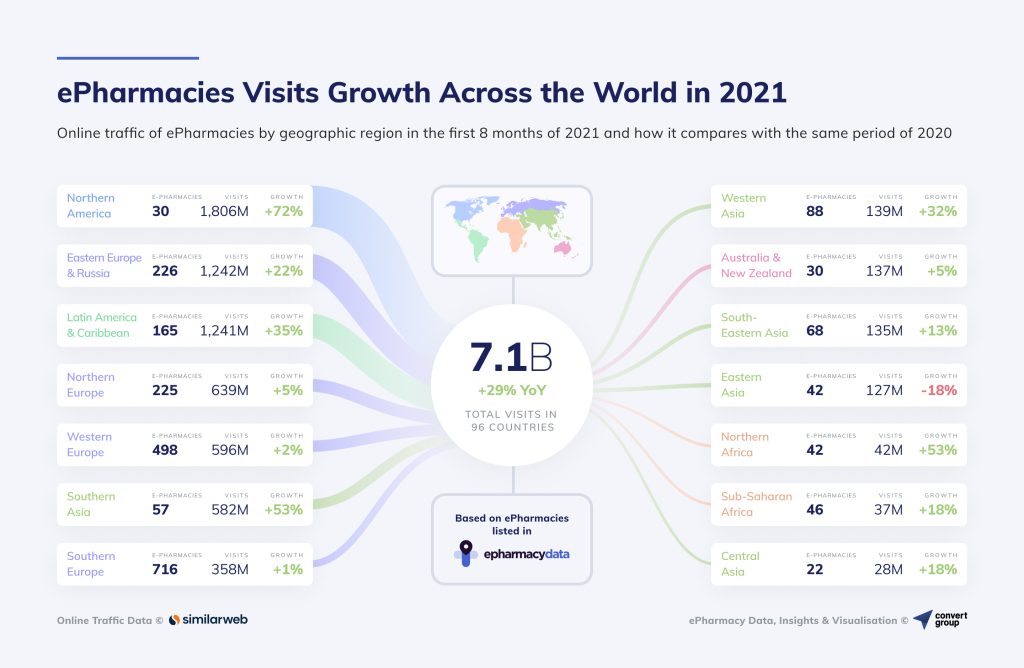 Consumers and patients across the world have been ordering their prescription (Rx), non-prescription (OTC) medication and parapharmacy products from online platforms. Convert Group's inaugural study on online pharmacy trends found that COVID-19 drove a 29 percent year-over-year increase in global ePharmacy visits – that is 7.1 billion visits in the 8 months of the year across 96 countries. The details of this global research have been published online at epharmacydata.com.In the era of online shopping, it is no longer a question of if consumers will buy prescription and non-prescription medicines for their healthcare needs, but how they will purchase these products. The study reveals the opportunity for Consumer Healthcare Retailers and Manufacturers to harness eCommerce to meet the needs of new online shoppers. Out of the 96 countries having at least 1 online pharmacy, consumers can order their prescription drugs online in 47 of them. In the last year, the COVID-19 pandemic, wide adoption of electronic prescriptions, and the modernization of last-mile deliveries have paved the way for selling prescription drugs through eCommerce, something unthinkable a few years ago in most of these countries.
Online Pharmacies are one of the fastest rising eCommerce sectors in the world:
JD Health and Allianz JD, JD.com's joint venture with Allianz, one of the world's largest insurers and asset managers, launched a complete online clinical insurance service in July, providing a one-stop platform for healthcare, prescription shopping, and insurance services.
The European platform Atida is expanding greatly in the ePharmacy sector with the acquisition of pioneers in the industry including eFarma.com in Italy, santédiscount in France and Dosfarma in Spain.
UK's Boots eCommerce sales surged in the year ended August 31, with a 54% increase. The company recorded a 250% Y-o-Y online sales increase during the 2020's lockdown.
Amazon continues to invest heavily in the industry as it is about to launch lots of new customer-facing healthcare services, including telemedicine and hospital assistance.
Key findings of the research include:
47 out of the 96 countries allow the online ordering of prescription medicine (Rx)
89 out of the 96 countries allow the online ordering of non-prescription medicine (OTC). The only countries prohibiting it are Algeria, Cyprus, Greece, Morocco, Iran, Côte d'Ivoire and Turkey.
North America was the region with the highest growth, with online visits increasing by +72%.  Additionally, online visits increased by +53% in Southern Asia and Northern Africa.
Sweden was the leading country with 18,019 visits to online pharmacies per 1,000 residents, followed by 12,867 visits per 1,000 residents in Bulgaria, 10,398 visits per 1,000 residents in Lithuania, and 9,835 visits per 1,000 residents in Belarus, leading the UK in the 4th place with 9,646 visits per 1,000 residents.
Brazil has the most tier1 online pharmacies (pharmacies with more than 5M visits per average month in the first 8 months of 2021) with 6 total, followed by Russia and India with 4 each, and the U.S., UK, Mexico and Germany with 3 each.
The research was conducted by Convert Group, the leading global ePharmacy Data firm that Consumer Healthcare & FMCG Manufacturers such as Bayer, Haleon, J&J, L'Oréal, Nestlé, P&G, Perrigo, Pierre Fabre, Reckitt Benckiser, Roche, Unilever, and others trust for their data-driven strategy and sell-out insights on the eCommerce channel. Traffic data was drawn with permission from Similarweb, the global leading provider of digital market intelligence, for 3.478 Online Pharmacies in 96 Countries across all continents.