Prescription medications (Rx) are now sold online in 53 of the 94 countries that have ePharmacies.
Sweden remains the top market in ePharmacy penetration in the population with 9.4 online visits per resident in the first semester of 2022.
Apollo Pharmacy in India ranks as the ePharmacy with the biggest traffic growth of 374% at 7.9M av. monthly online visits in the first semester of 2022.
Last-mile delivery and ePrescription adoption in the consumer healthcare eCommerce industry may create an accelerated growth as consumers and patients vouch for convenience and quicker means to obtain their required medication.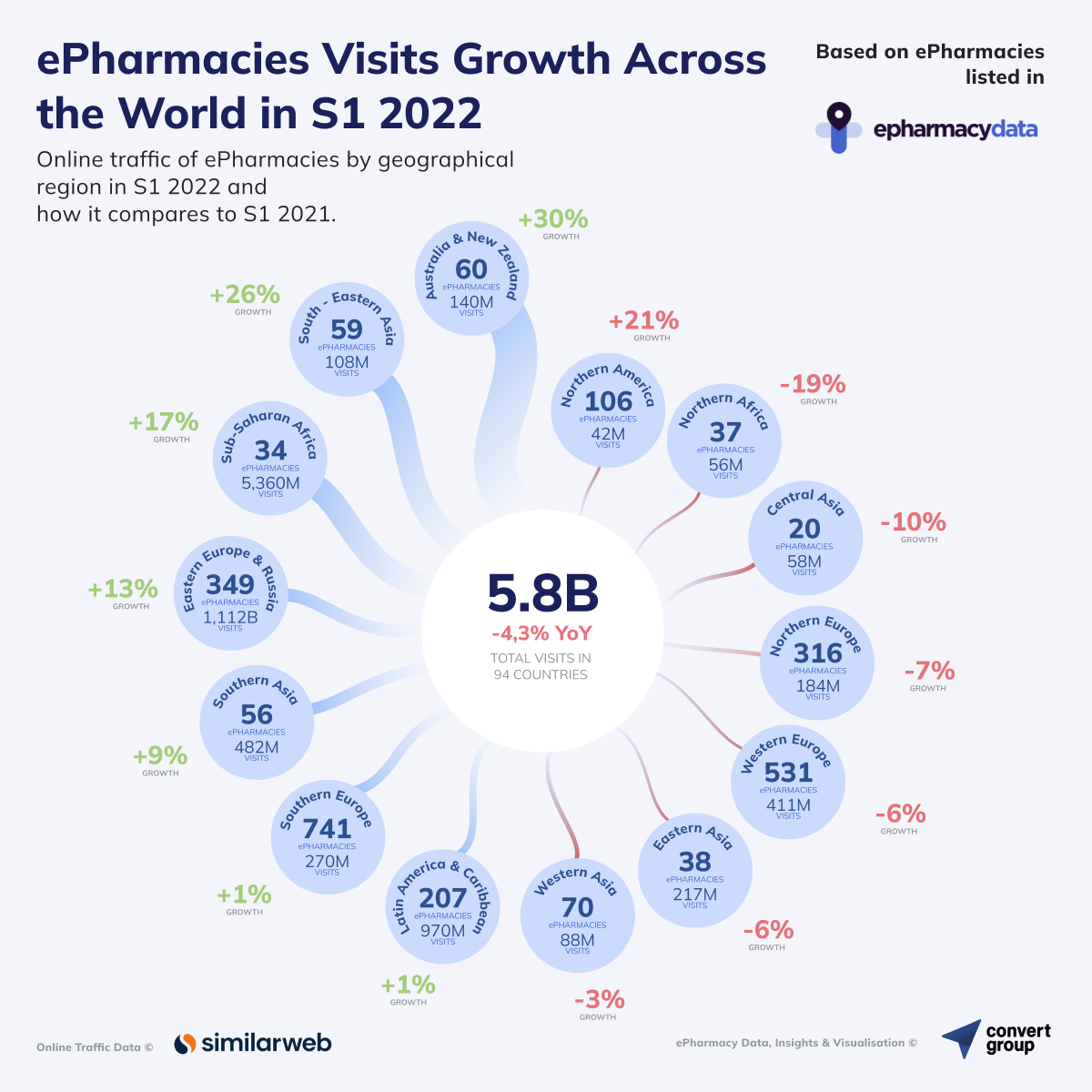 Even after the pandemic had subsided, the global population continues to visit online pharmacies with an astonishing 5.8 billion online visits being recorded in the first 6 months of 2022 across 94 countries. The data is based on Convert Group's latest S1 2022 report on online pharmacy trends. The findings of this global study are available online at epharmacydata.com.
This report indicates a significant opportunity for Consumer Healthcare Retailers and Manufacturers to leverage eCommerce for addressing the needs of new online shopper. In 53 countries out of the 94 included in this report, patients can acquire prescription medications online.
More online Pharmacies' highlights of the first semester of 2022 across the world, include:
As Amazon Pharmacy gains pace in the industry and the last-mile delivery becomes more essential than ever, the US-based NowRx has partnered with the Korean Hyundai Motor Group to outpace Amazon by providing an out-of-the-box last-mile delivery service to its customers. Brazilian-based RaiaDrogasil is also partnering with Uber to strengthen its delivery services across Brazil. Additionally, UK-based Pharmacy2U also partnered with Royal Mail to distribute NHS prescriptions to patients in the UK.
A pivotal move towards online marketplaces becomes evident, with European Shop Apotheke launching its second marketplace, as the eRetailer recognises the potential of the marketplace model in the ePharmacy ecosystem. Additionally, Walmart-backed Indian eCommerce giant Flipkart infused nearly $700M into its marketplace and healthcare unit. Additionally, British Superdrug is also preparing to launch a new marketplace, with premium and start-up brands in September.
A global ePharmacy Summit took place this May bringing some of the brightest minds of the industry in Greece.
Retailers from all over the world are seizing opportunities to enter the ePharmacy industry in the post-pandemic era in an effort to meet patients' rising needs, distinguish themselves from rivals, and gain extra market share points. Additionally, pharmacists increasingly trial new omnichannel strategies to maintain their place in today's highly competitive industry.
Key findings of the research include:
53 out of the 94 countries permit the online ordering of prescription medicine (Rx)
87 out of the 94 countries permit the online ordering of non-prescription medicine (OTC). The only countries prohibiting it are Algeria, Cyprus, Greece, Morocco, Iran, UAE and Turkey.
Australia with  New Zealand was the region with the highest growth, as online visits grew by +29.9%, followed by Southern Asia with a +25.7% increase and Sub-Saharan Africa with a +17.1% increase. On the contrary, Northern America, which up until this point had been the region leading the pack, recorded a 20.7% drop in growth. This decrease was driven by a massive drop in online visits in leading American retailers like Rite Aid (-51.2%), Walgreens (-29.3%)  and CVS Health (-21.2%) in the first semester of 2022, according to Similar Web. The same applies to other regions like Northern Africa, with Chefaa (-44.4%) and Vezeeta (-13.9%), Northern Europe, with Superdrug (-22%) and Boots (-8.7%), and Western Europe, with Medpex (-13.6%) and DocMorris (-11.6%).
Sweden was the leading country with 9,416 visits to online pharmacies per 1,000 residents, followed by 6,702 visits per 1,000 residents in Bulgaria, 6,297 visits per 1,000 residents in Norway, and 5,021 visits per 1,000 residents in Australia, leaving the US in the 6th place with 4,656 visits per 1,000 residents and the UK in the 8th place with 4,272 visits per 1,000 residents.
Brazil had the most Tier 1 online pharmacies (pharmacies with more than 5M average visits per month in S1 2022) with 6 total for the whole year, followed by Russia, India and USA with 5 each, and the UK and Mexico with 3 each.
Apollo Pharmacy, based in India, is the world's fastest growing ePharmacy, with a +374% Y-o-Y visit growth rate in S1 2022 compared to the same period last year, followed by Russian-based ePharmacy Wer with +112% Y-o-Y visits growth rate and Hong Kong-based  Mannings with +78% Y-o-Y visits growth rate. The remaining top 10 fastest growing ePharmacies in ascending order are: Planeta Zdorovo with +76% growth (Russia), Dr. Max with +67% growth (Romania), Apteka April with +58% growth (Russia), Sber Apteka with +55% growth (Russia), Drogaraia with +51% growth (Brazil), Watsons with +50% growth (Philippines) and Shop Farmacia with +46% growth (Italy).
The research was carried out by Convert Group, the leading global ePharmacy Data company that Consumer Healthcare & FMCG Manufacturers such as Bayer, Haleon, J&J, L'Oréal, Nestlé, P&G, Perrigo, Pierre Fabre, Reckitt Benckiser, Roche, Unilever, and others trust for their data-driven strategy and sell-out insights on the eCommerce channel. Traffic data for 3.478 Online Pharmacies in 94 countries across all continents was used with permission from Similarweb, the world's top source of digital market intelligence.
epharmacydata.com offers the global Consumer Healthcare community insights and data on one of the fastest rising sectors of global eCommerce.