Prescription medicines are currently sold online in 47 out of the 96 countries that have ePharmacies.
Increase in visits represents an impressive 25.7% year-over-year growth rate.
As patients' and customers' behavior  about OTC, Rx, and FMCG online purchases shift, eCommerce  transformation in the consumer healthcare sector is more essential than ever.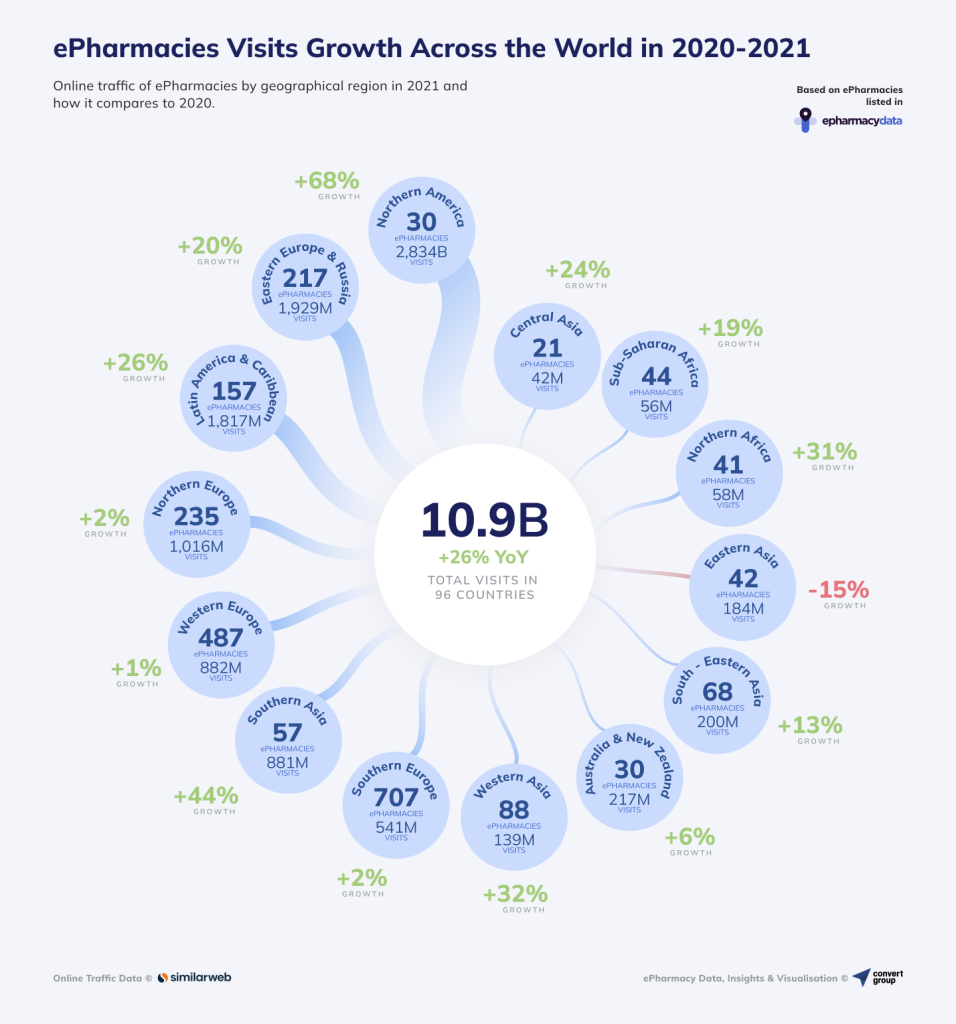 The pandemic continued to have a significant impact on the ePharmacy market's growth. Because of the COVID-induced lockdown and social distancing measures, customers were urged to order prescription (Rx), non-prescription (OTC), and parapharmacy medicines online instead of just visiting the neighborhood pharmacy, which was the norm until 2020. According to Convert Group's latest annual report on online pharmacy trends, COVID-19 generated a 25.7% year-over-year growth in worldwide ePharmacy visits, with around 10.9 billion visits recorded in the fiscal year across 96 countries. The findings of this global study are available online at epharmacydata.com.The way we shop is ever-changing. As consumers get more familiar with online shopping, ePharmacies are steadily growing their market share compared to brick-and-mortar pharmacies. The report identifies an ever-growing potential for Consumer Healthcare Retailers and Manufacturers to leverage eCommerce to fulfill the demands of new online buyers. At the time being, consumers can acquire prescription medications online in 47 of the 96 countries that have at least one online pharmacy. More pharmaceutical marketplaces are expected to emerge in 2022, followed by the modernization of last-mile deliveries and the growing adoption of omnichannel experience in the industry.
Online Pharmacies highlights of the year across the world:
As it becomes apparent, Retailers throughout the world are capitalizing on their opportunities to enter the ePharmacy industry, so they can differentiate themselves from competitors, and gain market share. Furthermore, omnichannel is becoming increasingly important for today's pharmacies to maintain their position in the current highly competitive market.
Key findings of the research include:
47 out of the 96 countries allow the online ordering of prescription medicine (Rx)
88 out of the 96 countries allow the online ordering of non-prescription medicine (OTC). The only countries prohibiting it are Algeria, Cyprus, Greece, Morocco, Iran, Côte d'Ivoire, UAE and Turkey.
Northern America was the region with the highest growth, with online visits increasing by +68.3%, followed by Southern Asia with a +44.06% increase and Northern Africa with a +31.41% increase.
Sweden was the leading country with 18,172 visits to online pharmacies per 1,000 residents, followed by 12,192 visits per 1,000 residents in Bulgaria, 11,798 visits per 1,000 residents in Belarus, and 10,874 visits per 1,000 residents in Lithuania, leaving the UK in the 5th place with 9,311 visits per 1,000 residents.
Brazil had the most tier1 online pharmacies (pharmacies with more than 5M visits per average month in 2021) with 6 total for the whole year, followed by Russia and India with 4 each, and the U.S. and the UK with 3 each.
Pharmeasy, situated in India, is the world's fastest growing ePharmacy, with a +205% Y-o-Y visit growth rate in 2021 compared to 2020, followed by another Indian-based ePharmacy Apollo Pharmacy with +200% Y-o-Y visits growth rate and both Mexican-based Farmaciasguadalajara and Ukraine-based 1sa.com.ua with +142% Y-o-Y visits growth rate. The remaining top 10 fastest growing ePharmacies in ascending order are: Drogaraia with +140% growth (Brazil), Rite Aid with +114% growth (USA), Eapteka with +109% growth (Russia), Inkafarma with +95% growth (Peru), Cruz Verde with +80% growth (Chile) and Drogasil with +74% growth (Brazil).
The research was carried out by Convert Group, the leading global ePharmacy Data company that Consumer Healthcare & FMCG Manufacturers such as Bayer, Haleon, J&J, L'Oréal, Nestlé, P&G, Perrigo, Pierre Fabre, Reckitt Benckiser, Roche, Unilever, and others trust for their data-driven strategy and sell-out insights on the eCommerce channel. Traffic data for 3.478 Online Pharmacies in 96 countries across all continents was used with permission from Similarweb, the world's top source of digital market intelligence.
epharmacydata.com offers the global Consumer Healthcare community insights and data on one of the fastest rising sectors of global eCommerce.