Consumers are no longer solely reliant on retail stores to conduct research and make a purchase. They're also searching beyond brand websites to gather information and make a purchase decision. The shopping experience is already hybrid and diverse. About 92% of consumers who tried online shopping in 2019 became converts, confirming that these changes in shopping habits and patterns fueled by the pandemic, are here to stay.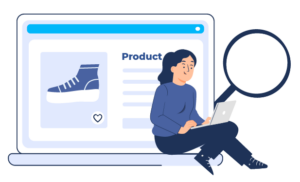 Global consumers today:
Regularly shop both online and in-store
Rely on digital information to research products and make purchases
As such, retailers and brands must work together to create a cohesive experience across all customer touchpoints and embrace innovation to enable mutual growth.
In this blog, we're going to take a comprehensive look into how brands and retailers can work together to meet consumer demands and the importance of data transparency in achieving mutual growth. 
The State of Retail and Online Commerce
Retail and online commerce has seen significant growth over the years. In total, global retail sales are expanding at an impressive rate, and in 2023 they're expected to hit $30.3 trillion, according to Oberlo. Global eCommerce has skyrocketed to nearly $5.7 trillion in 2022 and is projected to hit over $8 trillion by 2026, according to Statista, covering an increasing amount of the total sales pie. 
These huge boosts in retail and online commerce sales have also brought diverse product discovery, research, and purchasing options for consumers. Today's consumers can shop on social media platforms, marketplaces, retailer websites, brand websites, in-store, online with the added convenience of picking up in-store or curbside, and in-store with the option to get products shipped to their doorstep.
While all of these options make product awareness easier for retailers and brands, it's also crucial to understand the importance of data in this increasingly digital shopping flow. 
As consumers have so many options, brands and retailers must improve collaboration practices and data transparency to understand the shifting consumer behaviours and enhance their experiences.
Collaborative relationships that focus on data
There are robust benefits for brands and retailers that build strong, collaborative relationships. 
When brands and retailers work together, they can:
Cross-analyze data to provide personalised and cohesive customer experiences across touchpoints.
Boost customer loyalty and encourage repeat purchases with tailored product recommendations and improved activation visibility.
Capture more robust data about the customer journey to improve in-store and online shopping experiences.
Capture and share data
In today's digital world, it's impossible to create a successful and collaborative omnichannel sales strategy without capturing and transparently sharing organised data across those touch points.
In a 2020 Coresight Research report, brands and retailers agreed partnerships were key to growing sales and improving customer service. More specifically, 70% of retailers and 58% of suppliers cited responsiveness to consumer and market trends as key criteria for successful collaboration.
The study also found that 63% of retailers and 52% of suppliers cited a lack of trust and communication as "challenging" or "very challenging" when collaborating.
Data transparency can be a primary barrier. As brands and retailers strive to build better partnerships, it's critical to track, monitor, and share advanced analytics on: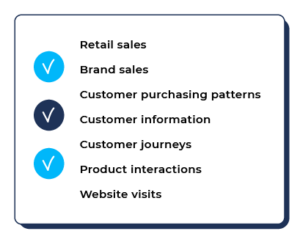 The best way to capture and analyse relevant data is with an insights platform to which all stakeholders have access.
Open access to the right insights helps brands and retailers fine-tune strategy, speak the same language, and build solid Joint Business Plans (JBP's) that enhance experiences across the digital shelf.
Focus on robust category management
Successful category management to meet consumer needs is key to the success of any brand. 
In today's increasingly digital commerce reality, every brand must create a robust category management process focused around 5 fundamental pillars: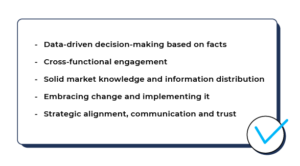 A key component of the Category Management process is the close relationship between retailers and brands. 
Based on a McKinsey survey, closer relationships between retailers and suppliers could create significant value, which tends to beat the competition by almost 2x in growth metrics.
As consumers have more flexibility in the shopping cycle, category managers need to be constantly aware of shifts in category trends and shopping patterns to develop a stronger connection with their audience. 
Retailers should benefit from the in-depth knowledge of the category manager because they can use the information they provide to understand how consumers shop in the category. 
Ultimately, collaborative relationships between retailers and brands create a win-win scenario when the right investments in technology, innovation and processes are embraced. 
Engage with the right audience at the right time
Although shared goals between brands and retailers are important building blocks of a successful collaboration, they're not sufficient on their own to generate shared value.
In a McKinsey study, the brands that are clearly winning relative to their category are 40% more likely to create tailored joint business plans with their retail partners and 80% likely to codevelop shopper-marketing plans.
Technology has advanced to the point where category managers and marketers can use real-time insights in a way that is both meaningful to customers and profitable for brands and retailers alike. 
Developing the right marketing strategy is what gives life to robust category management.
The concept that the brand will able to judge consumer buying patterns and market trends by focusing on the entire product category to deliver promotions that will speak directly to their audience is happening now. 
This becomes possible with access to real-time retailer insights. Brands are now able to have a seamless partnership with their retailers that allows them to not only build collaborative marketing plans but also have access to insights that help them understand their audience and measure their marketing impact with precision. 
With greater returns on marketing budgets and laser focused targeting, brands and retailers together must break through the noise to build long-lasting consumer loyalty and sustainable growth.
Brands and Retailers must prioritize digital transformation 
Brands and retailers need to collaborate with data to understand their shoppers, create solid joint business plans and activate the right audiences to create growth.
But, achieving a successful brand and retailer collaboration can be a tall order. There are a lot of stakeholders involved in the process. Collaborating effectively requires creativity, a regular review of integrated insights, constant communication, openness to change, and investments in technology.
This is why it's critical for brands and retailers to adopt the right insights platform to streamline their collaboration and share actionable insights. 
An insights platform provides a daily flow of sales, category and competition data that helps brands have a constant overview of their performance on the retailer. In addition, it equips brands with actionable insights on their target audiences and best in class marketing activation analytics that remove guesswork from their marketing strategy. This helps brands collaborate seamlessly with their retailer partners and develop solid joint business plans that lead to faster, predictable growth.